Qualikom Canada Courier Solution (QCCS)
Qualikom has been providing custom software solutions to courier/logistics companies since 1997.
Courier and logistics companies all need some form of software, in order to operate their business efficiently. A high level of security, efficiency and reliability is required in order to satisfy missions critical customer requirements. 21st. century robust software tools are used by the industry leaders and it is for this reason, customers continue to seek out Qualikom software solutions.
Qualikom Courier Software is preferred by customers both in Canada and the USA.
Our software started our as a simple dispatch board, but over time as we deal with new customer requirements, it matured to the point where we have covered almost all the required features that courier and logistics companies would ever need to operate and manage their businesses. We need to speak with you in order to customize your instance. It streamlines your customers with virtual warehouse sorting, virtual bins, scanning QR codes or barcodes, dispatching, drivers communication, billing, online payments, prepayments, driver settlements and over 100 different features that can be customized to make your business run with ease. many more….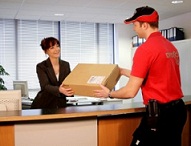 There is nothing for you to install on your computer, all you need is your favorite browser and a good internet connection.
Qualikom Secure Software Solution is backed by its advanced data center, superior network, highest level customer service and excellent technical support. Compatible with a range of consumer devices such as smartphones and tablets. Our software solution is cross platform and this sets itself apart from the competitors. Our software works across Android, and any other mobile devices. Every SaaS new solution is provided on a 2048 bit SSL dedicated enterprise server, that is 100% salable. Dispatchers and drivers work from a central database using a range of devices, to position your business as highly innovative.
Reduce Total Cost of Ownership
Low total cost of ownership allows all courier or logistics businesses to start saving and being competitive right away. Our user friendly and intuitive interfaces allows for a short learning curve and no special mobile devices are required.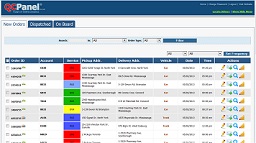 Qualikom provides unique customization to ensure your solution is what you want in the way you want it.
Your system will deliver enhanced functionality for managing incoming orders, pickups and deliveries, scheduling, tracking, waiting time, extra weight, return pickup, enhanced billing, advanced GEO-FENCING  and many other tasks which the competition don't offer. Everything happens in real-time with synchronization between your own central server and all devices connected to it. Your solution is packaged with  features you would expect from a high-level dispatch management solution. It is also suitable for use in a wide variety of other companies, allowing for an unlimited number of dispatchers, drivers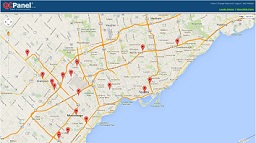 and customers making simultaneous transactions 24×7.
How can I get started with Qualikom?
Send us your signup request by email to accounts@qualikom.com , we will contact you to discuss your exact requirements. Once we have all the necessary details covered, we will setup your new server and software, provide the training to a trainer or team in your company.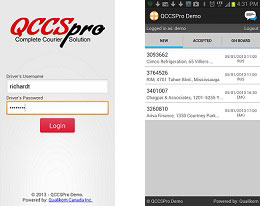 Benefits
Improves customer service by providing real-time delivery information, SMS notifications and Geo-fence.
Your server comes with FREE 2048 Bit SSL encryption
You get a dedicated solution (Not a shared application as with the competition).
Your system is 100% saleable (Scales from a single server to having multiple networked servers for different regions, states or for countries, as your business grow).
Single and Multi-Order entry facilities with just a few clicks of your mouse.
Quick order entry by your online customers or by your order taker/s
Dynamic Routing of sending out drivers orders (You can select any number of orders, reshuffle the sequence for delivery before dispatching to your drivers).
Magic Zone Creation (MZC) – Simply drag a mouse over the streets on the map to create zones. Use a using a tablet with a stylus for accuracy to automatically create, as many zones as required, then set prices for those zones. (All associated postal codes are included when using MZC).
Qualikom Hybrid Central Database (CDB) contains searches for addresses between the local and from google. This system searches for addresses worldwide. (Speeds up order entry and data accuracy).
Dispatchers know and can see their driver location in real-time, before deciding to send the next critical order for pickup
Instant communication with drivers via our builtin text engine. Retain text communication for a predetermined length of time.
Smaller couriers use their phones to review and dispatch new orders while on the road
Billing is with the push of a button
Manage and track invoice payments
Driver settlement with one click
Customers track orders online with unique order ID.
Customized reporting
Reduce billing and administration costs by automatically by emailing invoices to your clients
Increase dispatcher and driver productivity by sending all orders at once to the driver's device
Further customization is done on a company by company basis.
MUCH MORE…….
Qualikom Canada Inc. is 100% Canadian Owned and Operated.
Always Happy To Serve! (Since 1997)